Super Easy Pasta Dishes: 9 Gluten Free Pasta Recipes You'll Love
By: Audrey Huggett, Editor, FaveGlutenFreeRecipes.com

Updated June 20, 2016
Super Easy Pasta Dishes:
9 Gluten Free Pasta Recipes You'll Love
Free eCookbook
Grab your apron because you'll want to make these easy pasta recipes as soon as you get your hands on them!
Making delicious, gluten free pasta dishes will never be easier now that you have the 9 Gluten Free Pasta Recipes You'll Love eCookbook. There are so many unique pasta recipes, so it is nearly impossible to become bored of pasta. This truly is the one cookbook that every gluten free chef should have. With tips such as making noodles from squash, these recipes will help you create gluten free versions of your favorite pasta dishes. You don't need to avoid pasta dishes completely now that you have this handy gluten free pasta guide. Your family is going to love all these new recipes, and they'll be begging for pasta every night of the week.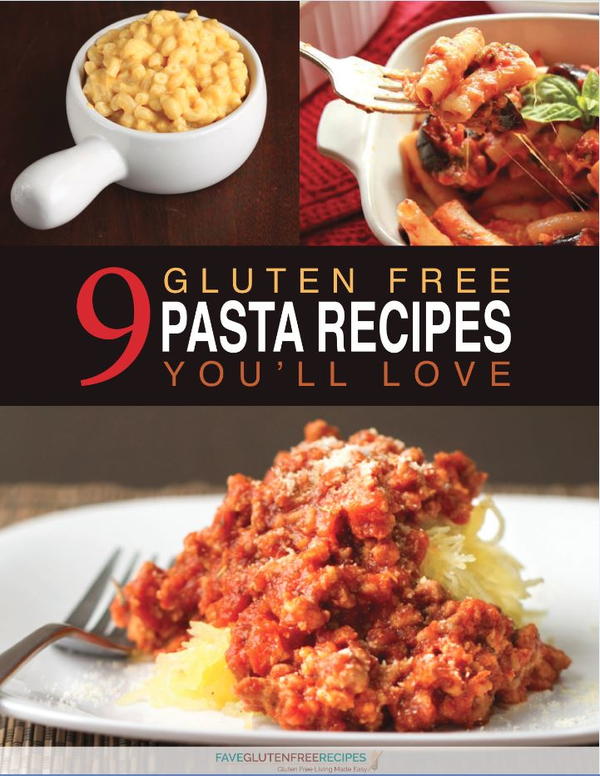 Click here to download a copy of 9 Gluten Free Pasta Recipes You'll Love
Super Easy Pasta Dishes: 9 Gluten Free Pasta Recipes You'll Love
Table of Contents
Dear Gluten Free Foodies,

Pasta is a tasty staple of everyday American life that poses unique problems for those following a gluten free lifestyle. Luckily, avoiding gluten doesn't mean that you have to completely cut pasta out of your diet. With these handy gluten free pasta recipes, you can easily provide your family with a variety of tasty dishes.

Recipes like Butternut Squash Macaroni and Cheese (p. 6) are sure to be a hit with both parents and kids. Children will love the creamy flavor of homemade macaroni and cheese, and moms will approve of the healthy dose of veggies hidden in this tasty gluten free pasta recipe. Baked Penne (p. 9) is sure to be another hit dish; it combines tasty noodles with a homemade tomato sauce for a meal that the entire family can enjoy.

These gluten free pasta recipes combine nutrition with delicious flavors that are sure to make your home happy and healthy. This free eCookbook even contains options for those who would like to skip the noodles all together. The Spaghetti Squash Macaroni 'N Cheese recipe (p. 17) skips the traditional pasta and features a tasty spaghetti squash. With recipes like these, you'll be able to find gluten free pasta recipes that will fit any occasion or audience. Your family is sure to enjoy these tasty dinner ideas any night of the week.

If you're looking for a way to spice up those gluten free noodles, this eCookbook will be an indispensable inspiration for any chef.

Happy cooking!
Sincerely,
Audrey Huggett
Editor of FaveGlutenFreeRecipes.com
If you enjoyed this free eCookbook, you won't want to miss any of our other downloadable recipe collections. You can browse our entire library of free eCookbooks here.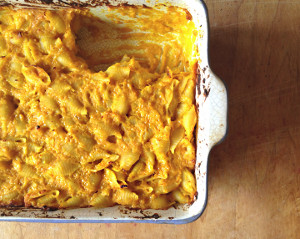 Definitely one of the most popular dishes in the pasta family, Macaroni and Cheese is a super easy and tasty dinner to prepare. There are so many ways to create the cheesy goodness as well. Creamy and downright delicious, macaroni and cheese makes a perfect dinner when served with veggies or chicken. But, it also makes a great stand-alone meal. 9 Gluten Free Pasta Recipes You'll Love holds all the secrets for great, easy gluten-free mac and cheese. You'll love that these recipes take the popular pasta dish and make them a bit healthier. These recipes will inspire a different way of looking at mac and cheese.

Macaroni and cheese is even better when you substitute squash for the traditional macaroni, and you'll get to try this creative take with the Spaghetti Squash Mac 'n Cheese (pg. 17). You'll also love the Macinsquash (pg. 15), which uses the vegetable as the cheese sauce instead of cheddar. Easy to create and super tasty to eat, you will love these awesome recipes for gluten-free macaroni and cheese. Already a family-favorite dish, your family will be going nuts for these recipes, and they'll beg you to make more. This free eCookbook is guaranteed to help you create meals that will delight diners of all ages. Make these mac and cheese dishes when you want something easy, creamy, and healthy for dinner but still want awesome flavor. You don't have to sacrifice taste for health with these wonderful gluten-free macaroni and cheese options. No one will realize that you didn't make a classic recipe.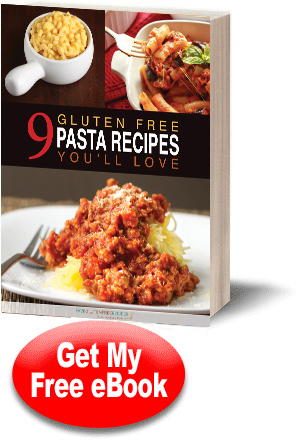 Download your free Copy of 9 Gluten Free Pasta Recipes You'll Love today!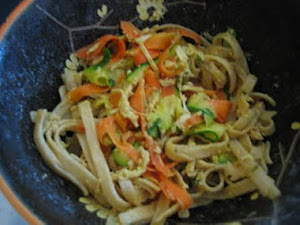 Forget take out—these recipes are healthier and tastier than anything you could get at your local Asian restaurant. Pad Thai dishes are delicious ways to use some of your gluten free noodles, and these 9 Gluten Free Pasta Dishes will show you how to prepare some awesome Asian-inspired meals. The eCookBook features two simple and yummy recipes that will definitely bring some zing to your dinner table. Light and fresh, these Sunbutter Noodles (pg. 8) are made with butter created from sunflowers. You'll also find Pad Thai (pg. 18) in this eCookbook, and this recipe is a great alternative to take-out. Both pasta dishes are fun to create, and even more fun to eat. They will definitely make multiple appearances on your table because your family will fall in love with these awesome dishes.
When you make either of these Asian-inspired recipes, it's super simple to make it healthy by mixing in some chicken and your favorite vegetables. You can use a variety of different sauces to kick these recipes up to a whole new level of flavor. There's really no limit to how you can prepare these recipes. Not only are they bursting with flavor, they are super easy to master. You'll be shocked at how quickly these dishes go from your stove to your table—and then how fast they disappear from the serving dishes. Your family and friends will be super impressed with how flavorful these dishes are, and they'll never believe you if you tell them these are gluten free dinners.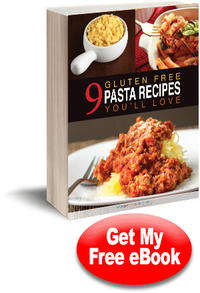 Download your free Copy of 9 Gluten Free Pasta Recipes You'll Love today!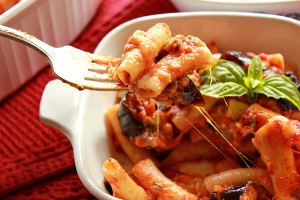 Italian-inspired pasta dishes are easily the most versatile recipes that you can make. You can add meat, use you're choice of vegetables, and pick the type of sauce. The sky is the limit, and this free eCookBook will help you soar with gluten-free Italian recipes. When you mention pasta, a lot of people may think of spaghetti, penne, and rigatoni. You'll find gluten free recipes using each of these noodles in this essential eCookBook. You don't need to travel to Europe to get a taste of Italy anymore; you have everything you need in your own kitchen. Make Spicy Spaghetti with Meat Sauce (pg. 14) or Baked Penne (pg. 9) for some delicious, traditional Italian meals. You'll love that you can use your gluten free noodles to create these dishes that everyone will enjoy. The recipe for Gnocchi (pg. 13) is a great homemade pasta recipe, and you would never believe that a gnocchi recipe could be this easy. Everyone you know will want to whip up these delicious pasta creations.

All of these dishes are great for reheating, so make a lot and bring some to work the next day. Your co-workers are sure to be jealous of your awesome meal. Gluten free pasta dishes don't have to be boring—in fact, a lot of them are more flavorful that regular dishes because of the unique ingredients the gluten free recipes use. You won't believe how easy it is to transition from regular pasta to gluten-free pasta when you are making such delicious meals from this eCookBook, 9 Gluten Free Pasta Recipes You'll Love.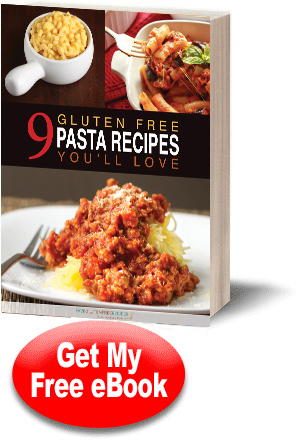 Download your free Copy of 9 Gluten Free Pasta Recipes You'll Love today!
And as a friendly reminder, with your free copy of 9 Gluten Free Pasta Recipes You'll Love (as with all of our downloadable eCookbooks), you can also subscribe to our free Gluten Free Digest newsletter to become a part of the FaveGlutenFreeRecipes community. In subscribing to the newsletter you will recieve:
Two weekly emails with free recipes, tips, collection pages, videos, and more.
Chances to win cookbooks and food products from our weekly giveaways and contests.
New recipes and eCookbooks made available to you throughout the year.
Access to our large collection of gluten-free recipes, including budget friendly and quick and easy recipes.
The opportunity to share ideas and help others in the recipe and cooking community.

Download your free copy of The One eCookBook You Need: 9 Gluten Free Pasta Recipes You'll Love today!



For help downloading this eCookbook, please see our guide on how to download our eCookbooks.
Tags / Related Topics
Your Recently Viewed Recipes
Images from other cooks

Love these recipes? Get MORE delivered to your Inbox – FREE Click Here!