The Top 5 Tips for Eating Out Gluten Free
By:
Claire Baker, Director of Communications, National Foundation for Celiac Awareness
Eating out while following a gluten free diet is becoming an increasingly common practice. More and more diners are asking for gluten free options these days. In fact, 30% of all diners are requesting gluten free dishes. However, the number of people with a diagnosed, medically-restricted diet, such as those with celiac disease, is much smaller. This has caused some confusion for restaurants about how to best accommodate a gluten free customer. Just because a dining establishment offers a gluten free menu or gluten free options, it doesn't mean that it's a safe place for you to eat. They may not be aware of the potential for cross-contact of gluten free and gluten-containing foods.

If you are a person with celiac disease or gluten sensitivity that requires a strict gluten free diet, even a very small amount of gluten can make you sick. These Top 5 Tips for Eating Out Gluten Free will help you stay safe and healthy while eating out.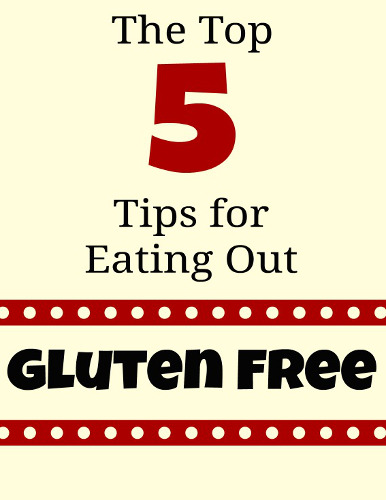 ---
Gluten can be tricky, but we're here to help. Here's a page of ingredients you need to avoid to stay gluten free.
---
Start online.
Do a search for gluten free restaurants in your target zip code. Some online tools with consumer reviews or blogs such as YELP!, Urbanspoon, and FindMeGlutenFree can be good starting points for finding restaurants that can accommodate you, but that is just the beginning of the process to determine whether you'll have a safe dining experience. Some reviews don't focus on safe preparation or the gluten free status of the food, so don't base your decision solely on the reviews.
Call ahead.
Once you've narrowed down your restaurant choices, pick up the phone. Call several days in advance if possible, and at a time when the restaurant won't be busy. Tell them you want to eat there, but that you have a medically-restricted diet and need to ask them a few questions:
a) Do you have a gluten free menu?
b) Do you know what gluten is?
c) What are your gluten free options?
d) Have you completed a gluten free training program, such as GREAT Kitchens?
If you don't hear answers that give you confidence, try a different place. Keep at it until you get confident responses that reassure you that the restaurant can meet your needs. Once you find a place that sounds promising, ask if you can be seated in the section of a particular server who better understands gluten free needs.
Be detailed.
Once you arrive at the restaurant, let your server know that you have a medically-restricted diet and can't eat gluten – even trace amounts – or you will get sick. Ask him or her to help you to navigate the menu to keep you safe. Ask your server:
a) Are there gluten-containing ingredients in a particular selection? How is this dish prepared? Do you use any spice blends or mixes? Flour or soy sauce in the dressing/sauce/batter/base? Are there any marinades, fillers, or seasonings added to the meat?
b) How do you avoid cross-contact with gluten-containing ingredients? Do you use a separate prep and cook space for gluten free food? Separate cookware and utensils? A separate fryer for non-gluten-containing items?
Sometimes a server may not know the answers or will not be confident. Ask if there is a manager or if you can speak to the chef, just to be sure. Take a copy of the Dining Tips Sheet with you to refer to during your visit.
Be proactive.
When your food arrives, confirm that it is gluten free. Take a look at your plate, and if you are unsure that it is truly gluten free at any point during the meal, ask to speak to the manager or chef. Explain that you have to eat gluten free for medical reasons and that you can get sick from even trace amounts of gluten. If the restaurant isn't already, ask them to get GREAT Kitchen-trained!
Tip well!
If you have been treated well and your gluten free needs were nicely accommodated, be sure and show your appreciation. It will encourage your server to take good care of the next gluten free diner too!
By planning ahead, asking questions, and advocating for yourself, you will be able to maximize your chances to eat safely and without fear.
---
---
Free recipes, giveaways, exclusive partner offers, and more straight to your inbox!
Tags / Related Topics
Your Recently Viewed Recipes
Images from other cooks

Something worth saving?
SAVE your favorite recipes
ADD personal reminder notes
QUICKLY reference your recipes