Surprising Foods That Have Gluten You Need to Know
By:
Sara Raffensperger, Editor, FaveGlutenFreeRecipes.com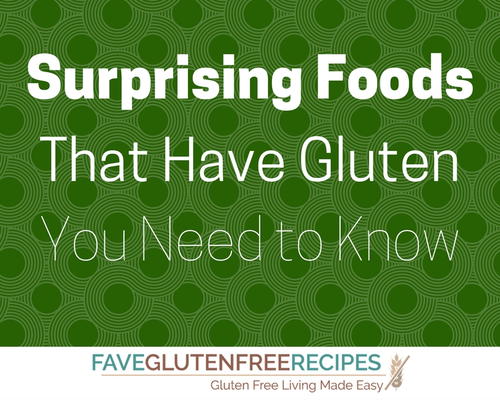 If you're just starting out on a gluten free diet, then you know there are some foods that you definitely can't eat like bread or pasta unless they're the gluten free versions. However, unless you've been gluten free for a long time, you might not know all of these Surprising Foods That Have Gluten You Need to Know. In order to navigate the gluten free world, you need to know what you can and can't eat so you don't get sick. Some of these foods might surprise you, but you need to know about them if you want stay healthy. It might help to print this list and keep it with you until you feel comfortable knowing what you can and can't eat.

By now you'll have realized that there a lot of foods you can't eat, but you might not know about these surprising foods that contain gluten. If you're new to the gluten free diet, then chances are, you never considered the "secret" ingredients in your food before. Now you have to worry and know about all of them in order to avoid getting sick. 

Here's the deal: once you know these foods that you need to avoid or find the gluten free versions, it'll get easier. It might seem impossible to eat anything now for fear that you'll feel sick later, but just know that there is plenty of delicious gluten free foods for you to eat. But first, you have to know the foods you can't.
Secret Sources of Gluten You Need to Know
Ice Cream
There are many brands of ice cream that are gluten free (thank goodness!) but some may contain wheat ingredients like wheat starch, malt, or some artificial colors and flavors. Check the ingredients carefully and avoid flavors like chocolate chip cookie dough, cookies and cream, and cake batter.

Ground Spices
Here's the deal: gluten free food can taste really bland sometimes because there are a lot of ground spices that contain gluten. They're either contaminated at the factory or  the manufacturer added some flour to them afterwards to prevent caking.

Makes sense, right? But it's a bummer for gluten free folks. Most fresh herbs and spices are safe to eat, and you could even grow your own if you want to be 100% sure they're safe for you.

Soy Sauce
I think we all know this one by now. Soy sauce is made with soybeans which are steamed, fermented, and aged, often with the addition of wheat for aroma and sweetness. If you can find a soy sauce labelled specifically "gluten free," then you should be in the clear.

Oats and Oatmeal
I can't emphasize this enough: not all oats are created equal and not all oats are gluten free. There can be a contamination problem for oats if oat and wheat fields are next to each other or if oats are processed on equipment that also processes wheat.

Look for oats with a certified gluten free label and beware of molasses and brown sugar-flavored oats because they can sometimes contain caramel coloring made with wheat.

Alcohol
It's not just beer and ales that contain gluten, unfortunately. Other alcohol varieties like whiskey, bourbon, and rye have gluten hiding in them too.

It gets better though. Cider, wine, tequila, and rum are typically safe to drink if you're avoiding gluten.

Pickles
Danger zone!
Cucumbers = safe.
Pickles = probably not safe.

If they're picked in malt vinegar, which is made directly from wheat-containing ale, stay away!

You're in the clear if your pickles are brined in white vinegar or any other wheat-free vinegar.

Sushi
Nothing is sacred, apparently. Unless it's processed on contaminated equipment, all rice is naturally gluten free.

But celiacs need to avoid the California roll. It's made with imitation crab meat, which is an assortment of fish and different sea foods mix with starch. Other kinds of fish are fine, but make sure the use the gluten free soy sauce!

Gravy
You probably knew about this one already, right? Gravy is most commonly made by taking the drippings from chicken, turkey, or another roasted meat and thickening them with flour or cornstarch. 

As long as you avoid the gravy made with flour and enjoy the kind made with cornstarch, you're in the clear.

Whole Grains
Bear with me because this is where it can get tricky. Just because a grain is labeled as "whole" doesn't mean it's gluten free. Couscous, spelt, barley, and kamut are whole grains that contain a whole lot of gluten.

Buckwheat, quinoa, flax, millet, and sorgum are safe to eat when you're avoiding gluten.

Salad Dressings
Seriously? The best part about a salad contains gluten too? Many salad dressing using gluten-containing ingredients like flour as thickeners. Instead, you can try and make your own salad dressing.

Canned Soups
Of course you probably knew to avoid chicken noodle soup (unless the noodles are gluten free), but did you know that noodle-less soups also contain gluten? Many canned soups use gluten (in particular wheat flour) as a thickener. You'll find gluten in a lot of creamy soups, and you'll even find it hiding in tomato soup! Fortunately there are quite a few brands that now offer gluten free canned soup options. 

Candies 
Before grabbing a bag of candy at the grocery store, make sure you check the ingredients. You already knew to avoid the candies that include pretzels and cookie pieces, but gluten can hide in other candies as well. For instance the holiday-themed Reese's Peanut Butter Eggs are not gluten free whereas traditional Reese's Peanut Butter Cups are gluten free. Other sneaky gluten-filled candies include Twizlers and Red Vines. 

Vinegars
It's oftentimes hard to keep track of which vinegars are safe and which are not safe. Below you'll find a handy guide to help you remember which vinegars to avoid. 

Usually Safe - Cane vinegar, red and white wine vinegar, apple cider vinegar, balsamic vinegar, and rice vinegar
 
Sometimes Safe - Distilled wine vinegar and flavored varieties of vinegar
 
Never Safe - Malt vinegar
 

Watch out for distilled wine vinegar because this vinegar can hide in a lot of your everyday condiments! 

Boulloin Cubes
Many chicken and beef boulloin cubes include gluten in their natural flavoring. When picking up boulloin cubes, make sure you purchase the brand that explicitly says "gluten free" on the label. 

Baking Powder
Baking powder is one of those tricky ingredients that you never would have thought included gluten; however, some brands of baking powder use wheat flour. We recommend using Clabber Girl's baking powder since that brand of baking powder is gluten free.
Bottom Line?
Always check the labels and if you aren't sure if it contains gluten or not, ask.
Free recipes, giveaways, exclusive partner offers, and more straight to your inbox!
Tags / Related Topics
Your Recently Viewed Recipes
Images from other cooks

Something worth saving?
SAVE your favorite recipes
ADD personal reminder notes
QUICKLY reference your recipes