Should I Give Up Gluten Even If I Don't Have Celiac Disease?
You asked and we answered: find out if eating gluten free is good for you even if you don't have celiac disease or a gluten intolerance.
By:
Sara Raffensperger, Editor, FaveGlutenFreeRecipes.com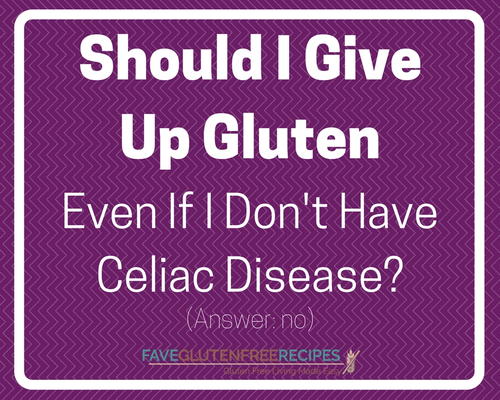 People have been eating gluten free for decades, but only in the last few years has it really come into the spotlight. There are a lot of people wondering if they should also be eating gluten free foods even if their doctor hasn't explicitly told them to do so. This article does its best to answer any questions you might have about the gluten free diet, why and when you should eat gluten free, and also why it might be better for non-celiac people and those without a gluten intolerance to not follow a gluten free diet. There are many benefits to eating gluten free if you are allergic to it, but there isn't evidence that it's a weight loss diet or that it's extra healthy for people who don't need it.

First of all, what is gluten? It's a protein found in wheat, rye, and barley. It's responsible for the elastic texture of dough, acting as a glue that holds food together. There is a small percentage of the population that is allergic to this protein and they need to use gluten free substitutes and avoid foods that include gluten so they don't get sick.
Who needs to give up gluten?
According to celiac.org, there are about 1 in 100 people (1%) who have celiac disease. It's an inherited autoimmune disease that causes damage to the small intestine when they eat gluten.

There are about 0.4% of people who have a wheat allergy that is diagnosed by a doctor. In those people, the allergic reaction is to wheat, which just so happens to contain gluten.

Then there is a larger group of people who have what is called "non-celiac gluten sensitivity." It produces similar reactions to celiac, but experts don't understand it very well or where these reactions arise. "According to the National Foundation for Celiac Awareness, as many as 18 million Americans have some non-celiac sensitivity to gluten."

If you think you might have celiac, you must talk to your doctor first. You should always talk to your doctor before taking treatment, like gluten free eating, into your own hands. If you go to the doctor after you've been avoiding gluten for a while, it becomes difficult to establish whether you have celiac disease, gluten sensitivity, or neither.
I'm not gluten intolerant, nor do I have celiac disease. Should I give up gluten?
In short, no. If you don't have a medical reason to give up gluten, just don't do it. If you still feel like you should or want to, please check with your doctor or a dietician before you start cutting anything out of your diet. To be diagnosed with celiac, you'll most likely have to see a gastroenterologist.

For people who have to eat gluten free, it isn't a fun fad diet that they're just trying out for six weeks. They can't eat gluten without getting seriously ill and it would probably annoy anyone who has to avoid something for a medical reason that you're "just trying it to see what it's like." 
There are plenty of people who hear about the gluten free diet and decide that it's something they're going to try to lose weight or to be supposedly healthier. They decide this based on little or no evidence other than testimonials in the media that people have been switching to gluten free diets to boost energy, feel healthier, or lose weight.

According to Harvard Health Publications and Dr. Leffler, director of clinical research at the Celiac Center at Beth Israel Deaconess Medical Center in Boston, giving up gluten when you don't have a medical reason to doesn't make any sense. "People who are sensitive to gluten may feel better, but a larger portion will derive no significant benefit from the practice. They'll simply waste their money, because these products are expensive."

The idea that gluten isn't good for you is ridiculous (excluding those who medically cannot consume it, of course). Gluten is in bread, cereal, pasta, pizza, and beer. It's also hiding in frozen vegetables in sauces, pre-shredded cheese, soy sauce, vitamin supplements, and even toothpaste. It's everywhere even if you're not aware of it.

If you're still determined to go gluten free, then you should know that it can set you up for nutritional deficiencies. The average American diet is already deficient in fiber. Taking away whole wheat and other fortified breads and cereals that have B vitamins in them is dangerous for your health. This can be a problem for anyone, but it's particularly worrisome for women who are pregnant or may become pregnant. They need vitamin B9, better known as folic acid, to prevent birth defects. 

Other nutrients that you'll be missing if you eat a gluten free diet:
Fiber
Iron
Folate
Niacin
Thiamine
Calcium
Vitamin B12
Phosphorus
Zinc

A dietician, Katherine Tallmadge, spoke to Scientific American and said "You can eat a healthy diet without gluten, but you have to be very knowledgeable, and most people aren't. People who go gluten free may feel better because, to avoid the protein, they end up cutting out desserts and junk foods, thus losing weight. They mistakenly attribute that to their gluten free decision."
Free recipes, giveaways, exclusive partner offers, and more straight to your inbox!
Tags / Related Topics
Your Recently Viewed Recipes
Images from other cooks

Something worth saving?
SAVE your favorite recipes
ADD personal reminder notes
QUICKLY reference your recipes