"Top Fall Recipes: 15 Favorite Tailgate Foods" eCookbook
By:
The Editors of FaveGlutenFreeRecipes.com
Free eCookbook:
Top Fall Recipes: 15 Favorite Tailgate Foods

There has never been a better time to enjoy the outdoors as the leaves start to change and sports season starts. Enjoy long afternoons with your friends and family with these fabulous recipes you'll happily put onto your fall tailgating menu. With the help of this eCookbook, you'll be able to make a variety of gluten free dishes--from tailgate salads to savory sides, you'll be ready for game season to begin. This fall, use any of these Top 15 Favorite Tailgate Foods for a dining experience that's both stress free and delicious.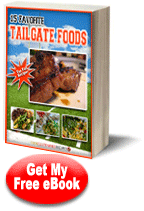 Top Fall Recipes: 15 Favorite Tailgate Foods Table of Contents
If you're looking for a main dish, this free eCookbook has options using multiple different types of proteins so you will never get bored with your cooking. Need a side salad that goes with anything you're pulling off the grill? This complete collection has sides too so you'll have everything you need for your next tailgating party.
For more gluten free main dishes, side salads and more, visit FaveGlutenFreeRecipes.com and pick out your favorites. You can get weekly recipes delivered right to you if you sign up with our free Gluten Free Digest newsletter.
Have fun at your rockin' tailgate party with these fantastic gluten free recipes!
For more fun and delicious gluten free recipes, be sure to visit FaveGlutenFreeRecipes.com. While you're there, subscribe to FaveGlutenFreeRecipes' free newsletter, The Gluten Free Digest, to get tasty recipes delivered to your inbox every week.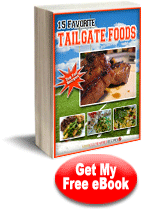 Download your copy of Top Fall Recipes: 15 Favorite Tailgate Foods today.
Tailgate food is incredibly family friendly because the flavors are simple and basic so preparation takes little time. Even the pickiest of eaters will have no problem with a meal that appeals to all the senses. First they will smell it, then they'll see it and then it will be gone in a matter of moments. The tastes and the textures complement each other so beautifully. Don't count on leftovers, food on a tailgate menu will not stand a chance. Throughout the course of the meal, enjoy the way the food has acted as the flame, your family and friends being the moths. Your main course will take center stage but not without sharing the spotlight. With sides and salads galore, everything on this menu works together in such a way that creates quite the feast. We've put together this simply delicious collection of recipes that make it easy to enjoy a great day out at the game with family and friends.
Why not get the party started these grilled-to-perfection dishes? The slight crust surrounding any type of meat that comes from a char helps to keep moisture in, ensuring a more tender serving whether you're having chicken, beef or anything else for dinner. Yet another benefit is the clean up. All it takes is a grill brush and you're done. No need to worry about a sink filled with dishes because the party takes place outside. Make it a no-muss no-fuss affair with paper plates. With such a large surface, BBQ recipes are easily adaptable for doubling or even tripling ingredients so you can invite the entire neighborhood over for a picnic. Being such a social activity, let the kids run around the backyard as your family and friends gather around the grill while you cook up a delicious meal in a matter of moments. With such direct heat to your food, recipes for grilling are typically fast so there's not much waiting around. Grilling is one of the easiest ways to get food out to your tailgating crowd in a flash. Top Fall Recipes: 15 Favorite Tailgate Foods offers great, easy recipes that will instantly warm up any chilly autumn afternoon with bright flavor.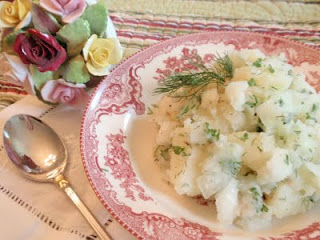 If you're hosting a tailgating shindig, you know that side dishes are pretty important, so don't let them go unnoticed. Among the most popular ingredients to use are lettuces, corn, potatoes and beans but don't get stuck in that old routine. With the help of this Top Fall Recipes: 15 Favorite Tailgate Foods eCookbook you've got so many more options to really expand flavors and ingredients. Each and every one of these side dishes will go well on your BBQ menu but don't necessarily have to stay there exclusively. These salads and sides are easy recipes for any time of the year if you're looking to remind yourself of summer when you're in that cold, gray, winter slump, break out these dishes that bring brightness to your table and your day.
Creating your tailgate menu doesn't have to be just a hunk of meat. Check out the sides that will surely complement any main dish that you make to enjoy in the great outdoors. Let your taste buds cool off with these sensational side dishes that couldn't be less of a hassle on the chef. With homemade dressings, you control what goes in to this BBQ side dish recipe. No need to worry about a potential gluten scare, making your dining experience all the more enjoyable.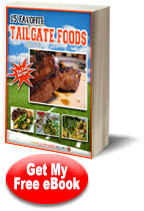 Download your copy of Top Fall Recipes: 15 Favorite Tailgate Foods.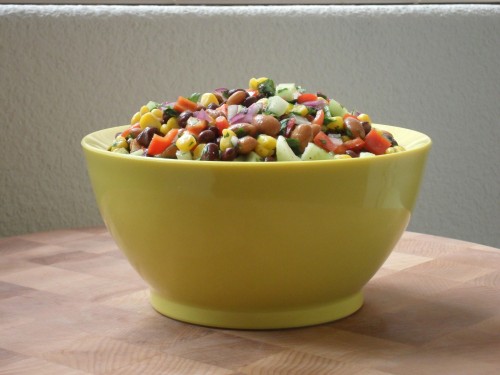 It's easy to assume that a salad means leafy greens and a boring store-bought dressing. Never let your salads sit on the sidelines again. From a corn salad with beans and tomatoes to a potato salad unlike any other, you'll have light and fresh flavors that help balance your BBQ menu. The Corn Salad (pictured above) is among the brightest of the recipes featured in Top Fall Recipes: 15 Favorite Tailgate Foods. The yellow kernels bursting with crunch and flavor, this gluten free tailgate food can be made easily with that can be made with any veggies you have in the house. It's the perfect food for when you're in a lazy mood. Pick out some gluten free Italian dressing and you're halfway there. Only 5 ingredients make up this pocket friendly summer salad that provides nutrients while appealing to taste buds of all ages.
The Southwestern Bean Salad is protein filled because of the mixture of legumes here. Make your own dressing with oil, vinegar and a myriad of spices to bring out the natural taste in the beans. The southwestern component comes into play with cilantro and cumin; both ingredients that are popular in Mexican cuisine. What a wonderful vegetarian option so everyone can enjoy a the dishes on the tailgate food menu. Gameday grub just got classier.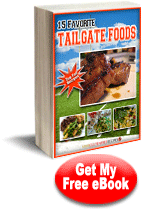 Download your copy of Top Fall Recipes: 15 Favorite Tailgate Foods today.
With your free copy of Top Fall Recipes: 15 Favorite Tailgate Foods, you can also subscribe to our newsletter, The Gluten Free Digest, to become part of a helpful and friendly cooking community. In subscribing to the newsletter, you will receive:

Weekly email with gluten free recipes, tips, collection pages and more.
Chances to win cooking books and products from our giveaways and contests.
New FREE recipes made available to you throughout the year.
Access to our free recipe library full of hundreds more free recipes.
The opportunity to share ideas and help others in the cooking community.
As a crafty and creative cook, I know you can see the value in this free eCookbook. Practice your skills making a recipe for a homemade version of your favorite name brand recipes by trying out our famous brand name recipes. Our tastefully simple copycat recipes prove that cooking brand name recipes at home is quick and easy and super gratifying! So mark a few items off of your list and trying making your favorite recipes at home.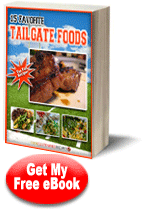 Download your copy of Top Fall Recipes: 15 Favorite Tailgate Foods today.
Want even more delectable finger foods? Check out this collection of 11 Aweome Gluten Free Recipes for Chips and Dips!
Free recipes, giveaways, exclusive partner offers, and more straight to your inbox!
Your Recently Viewed Recipes
Something worth saving?
SAVE your favorite recipes
ADD personal reminder notes
QUICKLY reference your recipes